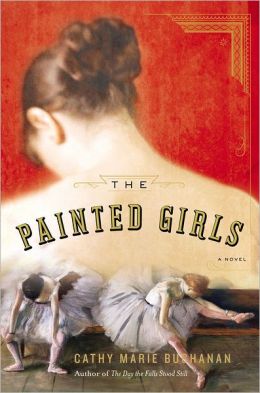 I enjoy historical fiction and art so when a book combines these two elements I am always interested in giving it a try. A book needs to hold my interest and help me learn new things in order for me to give it a 4 or 5 and Cathy did both wonderfully. The artist of that time period always intrigue me and the facts about the ballerinas and the "protectors" was a new bit of information for me. In a day that so many men are being picked up for trying to meet up on the internet with 13 to 15 year old girls, this was interesting to me. I know human trafficking is as old as the hills but this was a new form I was unaware of. As the saying goes, the more things change the more they stay the same. The scientific research on the shape of a person's face and their criminal future was also quite an interesting addition she added to this story. The most important story though is the love of family and the bonds that keep us together. I enjoyed this book very much and would highly recommend it to book clubs. There is a lot of interesting topics to provide an active discussion I am sure.
I listened to 2 books as I have been sewing lately and they were "The Light Between Oceans " and "The Psysick Book of Deliverance Dane"
Katherine's book, The Psysick Book of Deliverance Dane is about the witch trials of the 1800's. This book goes back and forth from present day to the lives of the women who were healers and how they were used as scape goats for religious zeal in those days. I enjoyed the narrator of this book and found it very enjoyable to listen to. This book was also based on true people and trial facts. Religious persecution is always interesting to me and the fact that it is usually always based on control and a masculine domination over the inferior female. The vulnerability of women is the theme in both of the historical books I am reviewing here and makes me glad my girls have a bit better chances in life today than then but not in all areas still.
The Light Between Oceans really caught me off guard. Again I enjoyed the narrator. His Aussie accent was very pleasant to listen to LOL! But the story caught me right away and kept me listening for hours on end. I don't like reviews that tell what the story is all about but basically it is a love story about a couple who live in a lighthouse and find a baby after loosing several of their own to miscarriage. Again a very interesting topic of discussion for a book club. Miss Stedman does a fantastic job of having you be sympathetic to all characters involved. It is a gripping tale that had me sobbingin the end. This book is going on my most favorite books list!
I am finishing up my pillows and bags for my 2 shows over the next 2 Saturdays. I am planning on starting The Grapes of Wrath that keeps getting interupted by newer books that catch my eye. I have been trying to start this book for 4 months! I watched the PBS series on the Dust Bowl and am very curious as to how Steinbeck protrays this time in our history. I know, I should have already read this in high school but I was a slacker then and did not take the liature classes. I took business english. I was not much of a reader then. I'm kind of glad because many of the classics are wasted on young people who do not have the life experiences to understand and appreciate the stories. Many of my friends have said they appreciated these books the second time around.
Well I better get back to Mr. Steinbeck before I find another book to read.
Have a great week and Happy Reading!